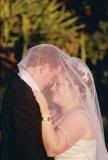 Got you on my mi--ind....
That's what I woke up to this morning. Serenaded on the phone by my entire family... awwww.
Yes, today is my wedding anniversary. Four years since I became the wife of my gorgeous husband.

I am so blessed to be loved by him, and to have him as my husband. Pete is the kindest, gentlest, most generous husband you could imagine. He's my best friend, my soul-mate, and the love of my life (corny I know, but I can say it cos it's true!). Every day with him makes me smile. He looks after me, which is what he told me he wanted to do when he proposed to me.
Watching him be a Papa to our gorgeous girl has made me fall in love with him all over again. He's such a good dad, so involved and hands on and I appreciate and love his support and help more than words could say. Oh how I love him!
Pete being on prac means that we didn't get to spend the day together, and tonight he will be working on lesson plans, but we are going to indulge in a yummy dinner of take-away thai food (chicken penang & beef massaman curries), a glass of white and apple crumble for dessert. Mmmm. We usually go away for our anniversary, but we're thinking maybe while we're away in Perth we can leave our girl with her grandparents for a night and have one special night somewhere. He's also promised me a date night when we go to Noosa at some point during the uni break.

But I feel spoiled enough just having Peter as my husband. Four years in and we're still in the honeymoon phase. I hope we're never out of it!