I was reading a thread of embarrassing wedding photos on a wedding forum I frequent, so decided to look for some of my own. Ooh we had a few :P Thought I'd share. Maybe later I'll do a post with some of my favourite wedding photos.
Me and Papa pre-wedding. Clearly, I take after my Pop, who is incapable of shutting up for long enough to pose for a photo :P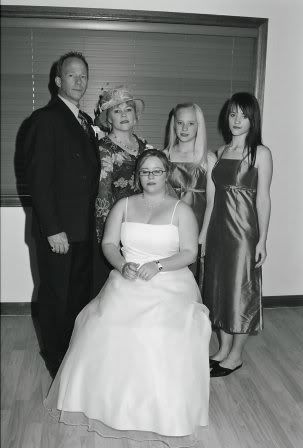 My family and I (apart from Jordan my brother who was getting ready with Pete). I promise you we were all very excited and happy about this wedding!
I was seriously over smiling by this point, plus my feet were killing me and I had a major over-tired headache - (Penny was finding me neurofen as I posed :P )
Seriously Hon, I really don't think I was *that* heavy!!!!
This photo is slightly concerning - the way my brother-in-law keeps his face so calm and collected as he attempts to strangle my brother :P :P