After having finally finished my very long-term crochet project (my very first granny square/hexagon rug!) I am soooooooo ready to move onto something new! I'm very proud of my beautiful blanket, but crocheting 98 hexagons became somewhat monotonous after a while. I'll post pictures of my rug once I've finished the terminally boring and annoying task of weaving in the ends... Lesson learned to do that as I finish each piece instead of having 300 odd tails (literally) to sew in when I just want to celebrate finishing!
I've done a few different winter hat projects in-between hexagons... Including owls and even a cow! I have grand plans of creating a bright and wonderful cardigan for my girl. And just for something different I'm wanting to have a go at making a couple of things for myself! To start off with, I decided to have a go at some very cute granny square slippers, which I found on pinterest (which by the way, have you joined yet? If you need an invite let me know. It's a truly wonderful place, if a little addictive...) We've had a few hours in the car this weekend - about 9 all up - so I was able to get a good start, and finished them off last night while enjoying spending time with my lovely Nana and Pop.
I am in love! They were so easy, and such a satisfying project, I'm already thinking of people who might appreciate them as gifts for Christmas or birthdays.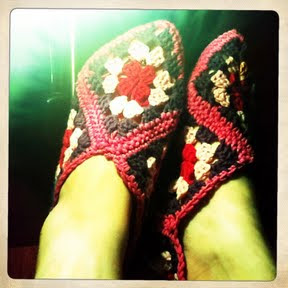 I miss sewing, and miss being able to work on my little business, but between working full time and trying to squeeze every spare second into being a wife and a mama, there just aren't enough hours in the day. Plus I kind of don't have a working sewing machine at the moment. I think that's why I'm enjoying crochet so much at the moment, because it's easy to pick up when I'm watching tv in the evenings, or if we're driving around the countryside (obviously not while I'm driving!). Another plus is that there's no cleaning up to be done when I'm finished for the night. Either way, whatever craft it is that I'm doing at the time, I think my favorite thing is that awesome feeling out of having made something out of what was practically nothing. One day it's a couple of balls of left over yarn, the next I'm wearing a pair of gorgeous slippers!
So keep an eye out, because you just never know... Maybe my little Facebook and Madeit shops will be restocked yet, and maybe you'll be able to have some of these super cute slippers too!